2023 Hot Springs, Montana Healing Retreat with Roy Holman & Liz Gross
Sep 10, 2023

-

Sep 16, 2023

|

$1100
Event Navigation
Yoga, Meditation, Nutrition, Healing & Hiking
& some of the most Healing Mineral Baths on Earth!
Price includes:
♥  Two teachers to support you for your healing retreat
♥  Shared room with two healthy, organic, delicious meals a day
♥  Hot Healing Mineral Baths – available all day, every day
♥  Yoga, Meditation, Healing & Nutrition classes
♥  Guided Hikes, Glacier National Park visit, Bison Reserve Drive
♥  Regular check-ins, meditations, and discussion groups
♥  Time to relax, rejuvenate, read, other healing options available ….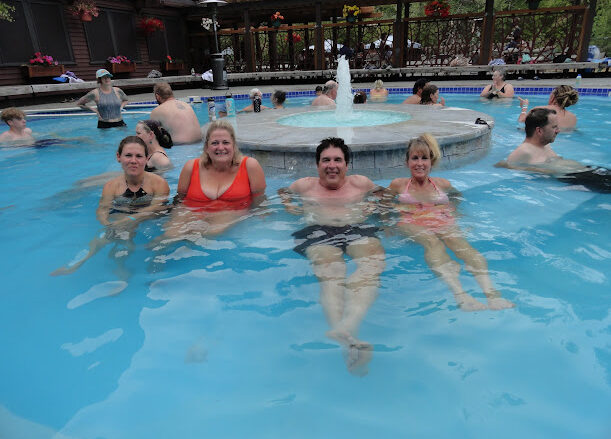 Why Hot Springs, Montana?
Liz and I "accidentally" (as in guided!) discovered this little gem of a town while returning from Glacier National Park in 2021. We stopped for a quick soak, and ended up staying the night. Since then, we have been back twice, so impressed with the healing properties of the mineral water, and the kindness of the people.
The water is rated second in the entire world. Their motto in Hot Springs is "Limp in, Leap out!" The town itself is tiny and unpretentious. People move slow, have time to talk and connect, and are genuine. There are deer roaming the streets!
What will we do?
Mostly, we will just "be". Hot Springs is an awesome spot to just hang out, slow down, and soak, heal, detoxify, rest and rejuvenate. To assist your healing, we will lead daily yoga, lead some meditations, teach a healthy food and nutrition workshop, while still leaving time for the precious hot springs soaks (either right in your own tub in your room, or in the town springs).
However, for those who want to "do" a bit more, we will offer a one day and night trip to Glacier National Park, one of the best parks in the country, and take a hike or two. We will also take a one hour drive to the Bison Range, and also visit the Garden of the 1000 Buddhas for a sacred walk. We might sneak in a lake swim as well. There is also a short but steep hike for a view of Hot Springs (3 miles round trip).
What about Food?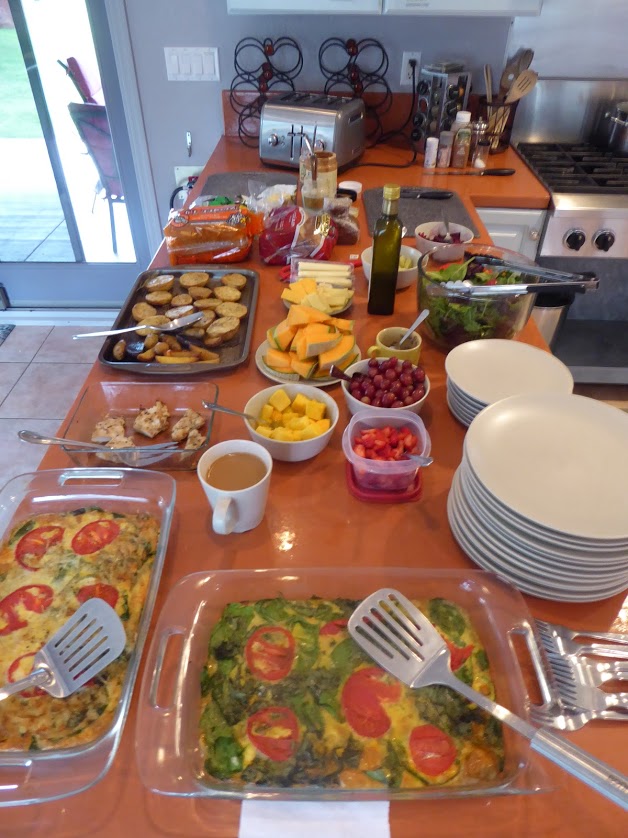 We will be preparing bountiful healthy breakfasts (eggs, oatmeal, granola, fruits, nuts, yogurt, coffee, tea, etc.) and one second meal (either lunch or dinner). For those who desire a third meal, we have good news: there is a wonderful organic food co-op with a cafe that makes amazing sandwiches, soups, salads, etc. There is also a good dinner spot (although most dinners are included).
Arrival and Transport
Hot Springs, Montana is located in Western Montana, under 1.5 hours from Missoula, the closest major airport. We probably won't be renting a van for this week, so please take off $50 if you either drive or rent a car, or take off $100 if you can drive others (to the retreat, airport or Glacier National Park for our park day.) If you need a ride to or from the airport, we will do our best to either line you up with someone with a car, or possibly pick you up ($30 each way).
What does trip look like? What are the details?
Arrival: You may arrive anytime the afternoon of Sunday, September 10th. Options: Fly into Missoula International Airport, where you can rent a car. Or we might be able to pick you up for an extra fee if time and space allows (we will NOT have a rental van, just our Honda!). Note: We are happy to help you find carpool or rental friends to save gas and costs
Sunday: We will settle in for an orientation, a meal, and of course a good hot soak, ahhhhhhh
Monday : Morning coffee or tea, then yoga, then Breakfast (included), soaking time, lunch (included), more soak time, nutrition  class, afternoon hike, dinner on your own.
Tuesday: Morning coffee or tea, then yoga, then Breakfast (included), soaking time, then pack lunch (included) drive to Bison Range, 1000 Buddhas visit. Free time in afternoon for soaking, dinner on your own.
Wednesday: Morning coffee or tea, then yoga, then Breakfast (included), soaking time, lunch on your own, visit other mineral baths in area, dinner at Alameda (included), then sound bath / sacred kirtan.
Thursday: Morning coffee or tea, then yoga, then Breakfast (included), soaking time, short drive to lake for short hike and possible swim (packed lunch (included), soak time, dinner on your own.
Friday: Morning coffee or tea, then yoga, then Breakfast (included), soaking time, then pack up (packed lunch included) and drive to Glacier National Park, staying at KOA in St Marys, East Glacier. We will enjoy views enroute, and a hike.
Saturday: Morning coffee or tea, breakfast (included), morning hike, closing ceremony.
Note: We encourage you to leave a bit of space at the end, not having to rush off, and ideally leave some time in your schedule Sunday night and Monday, to integrate, settle in to the new you, the next stage of your adventure.
Healing Properties of the mineral water
In Hot Springs, Montana, the spring waters are, well, hot; they range in temperature from 110 to 120 degrees Fahrenheit. The most immediate benefit of our waters comes from this heat. In a good soak, buoyancy relieves the body of weight, and the heat relaxes and melts away aches and pains, even chronic ones. Every 2.8-degree rise in water temperature in a bath actually doubles the body's metabolism. Thus, taking a soak puts your body in an excellent state for absorbing and processing the water's content, as well as ridding it of toxins.
These local thermal mineral springs have the added benefit of being artesian. The water from non-artesian springs rises to the surface naturally, picking up various ground-level contaminants. The water from artesian springs is trapped in underground chambers by impenetrable rock barriers, keeping it free from man-made elements. Access to these waters must involve drilling, and the benefit comes from the purity of the contained water.
The second benefit from a soak is derived from the trace mineral/element content of the water, which may differ by varying degrees from spring to spring. In Hot Springs, Montana, the different springs draw from the same source, or aquifer, insuring a baseline of similar characteristics. However, the water from this aquifer travels to the earth's surface via springs in different locations, each of which retains a measure of uniqueness due to the trace minerals and elements through which the water must pass along its journey to the surface. In many spa towns, these differences are distinct enough that doctors prescribe different springs for treating specific ailments. Locally, the Wild Horse Hot Springs draw from a separate aquifer from that of other Hot Springs waters, resulting in a different makeup.
To be classified as mineral water, the water must contain dissolved solids at a minimum of 500 parts per million (ppm). The thermal mineral springs in Hot Springs, Montana contain a wealth of trace minerals and elements that are proven to alleviate symptoms of many ailments and contribute to the healing of others. A list of ingredients in the waters here at Alameda's includes bicarbonates, salts, sulfur, nitrates, calcium, arsenic, lithium, silica, magnesium, potassium, and silica, among others (see graphic of water analysis at Alameda's). The most beneficial ingredients in Alameda's mineral springs are listed here, along with a description of each ingredient's benefits:
• Carbonates – in small amounts, stimulates breathing; helps with vascular issues; calms the nervous system; slows the heart rate; and helps the body produce new blood vessels.
• Bicarbonates – aids in improving circulation.
• Sulfates (sulfur) – Relieves numerous ailments including conditions of the liver, digestive and urinary systems, metallic poisoning, chronic skin diseases, and rheumatism.
• Radon – a radioactive inert gas with a very short life. While use in traditional medicine is closely monitored (if used at all), bathing in water containing small amounts of radon treats rheumatic diseases, gout, neuralgia, dermatosis, and diabetes.
• Iron – helps with iron-deficiency anemia, excessive mental fatigue, and stress.
• Magnesium – helps regulate body functions, production of proteins and energy, and nerve and muscle function.
•  Lithium – a silvery-white alkali metal, lithium is used to treat manic depression. It also stabilizes mood swings, corrects sleep disorders, and relaxes the mind and the emotions. Known to help alleviate migraine headaches. According to a 2009 Japanese study published in the British Journal of Psychiatry, communities whose water contained larger amounts of lithium had significantly lower suicide rates.
• Arsenic – While not recommended for ingestion, small amounts in a soak are effective in healing athlete's foot and other fungal infections.
• Silica – the body contains .05% silica in the bones, skin, and all organs. It is important in promoting bone formation and growth of hair and nails. A 2009 study shows that increases of silica in the drinking water reduces incidence of dementia by 11%.
Price Options:
$1,100: Shared room (triple occupancy), private bath with mineral tub
$1,200: Shared room (double occupancy), with private mineral bath tub
$1,300: Private room (use shared shower / bath and outdoor mineral tubs)
About the instructors:
Roy Holman: I am a 500 hour Certified Yoga teacher, in the Viniyoga tradition. I teach a safe, gentle, body-friendly, grounded, breath-connected, meditative, flowing traditional hatha yoga – a meditation in motion really. I like to move slow, give time to breathe deeply and savor the poses. I also teach breath-work (pranayama) and meditation, and also try to incorporate the many aspects of emotional healing and balancing I have learned. The meditation is a mindfulness style, with focus on breath awareness, heart opening, body senses, emotional clearing, and connection on all levels (body, breath, emotions, Earth, Spirit).
Liz Gross: I believe all healing involves alignment of the soul with the body." Liz is a gifted sound and vibration healer, and teaches with Roy on retreats. Liz teaches yoga, meditation, Oneness and often does some of the cooking on our retreats. "When you're consciously in touch with the life energy within yourself, you have awareness & communication with the flow of energy that connects you to spirit. I feel very passionate about Vibrational Medicine and love working with others in this way & helping others to connect with their purpose and passion in life. Vibrational Energy Medicine brings the physical, emotional, mental, & spiritual bodies back into balance, which opens the way for rebuilding the healing systems of the body.
Tags:
2023 Yoga Retreat
,
Hiking Retreat
,
Liz Gross
,
Montana Healing
,
Roy Holman
,
Yoga Retreat