Lady Florence Washington Weekend Retreat with Roy Holman & Liz Gross
Event Navigation
Retreat Details:
Liz and I decided to support the wonderful Washington Civil Rights Council by purchasing this weekend retreat package at the Lady Florence. This will be our first retreat there!
They are located an hour north of Seattle. They focus mainly on weddings, and it turns out we will have a few women who are celebrating a bachelor party the yoga way, with some of her friends at our retreat this weekend, awesome.
What will we do?
This will be our usual format: yoga classes, meditations, great food, a walk, healing options, and theme of Creating Powerful Relationships, which includes listening better, love, dealing with conflict, etc.
What about Food?
We will be preparing bountiful, organic, healthy breakfasts (eggs, oatmeal, granola, fruits, nuts, yogurt, coffee, tea, etc.) and hearty lunches and dinners. We cater to all diets.
Arrival & Departure Times
You may arrive anytime after 2pm on Friday April 14, and we will be done by 2pm Sunday.
Cost:
$475 per person (shared Queen room #1)
$625 (deluxe private Queen room #2 for one)
$1,100 (King suite, for two people, best room)
Date: April 14-16, 2023
Your guides will be Liz Gross and Roy Holman
Roy and Liz are passionate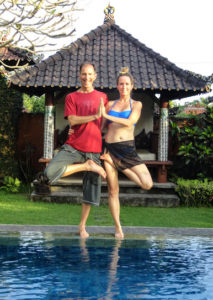 about healing and transformation. Roy has been teaching yoga and meditation for over 20 years, and has led retreats and hikes all over the world since 2000. Liz Gross also teaches yoga and meditation and is a gifted energy healer.
Picture is of Liz and Roy showing off by the pool on Bali, Indonesia on our last retreat there, one of our favorite places on Earth. But to be honest, wherever we are is a beautiful place to be!
About the instructors: Roy Holman & Liz Gross 
Liz Gross: "I believe all healing involves alignment of the soul with the body." Liz is a gifted sound and vibration healer, and teaches with Roy on retreats. Liz teaches yoga, meditation, Oneness and often does some of the cooking on our retreats. "When you're consciously in touch with the life energy within yourself, you have awareness & communication with the flow of energy that connects you to spirit. I feel very passionate about Vibrational Medicine and love working with others in this way & helping others to connect with their purpose and passion in life. Vibrational Energy Medicine brings the physical, emotional, mental, & spiritual bodies back into balance, which opens the way for rebuilding the healing systems of the body."
Roy Holman: I am a 500 hour Certified Yoga teacher, in the Viniyoga tradition. I teach a safe, gentle, body-friendly, grounded, breath-connected, meditative, flowing traditional hatha yoga – a meditation in motion really. I like to move slow, give time to breathe deeply and savor the poses. I also teach breath-work (pranayama) and meditation, and also try to incorporate the many aspects of emotional healing and balancing I have learned. The meditation is a mindfulness style, with focus on breath awareness, heart opening, body senses, emotional clearing, and connection on all levels (body, breath, emotions, Earth, Spirit).
Tags:
2023 retreat
,
Holman Health Connection
,
Lady Florence Washington
,
Liz Gross
,
Roy Holman
,
The Lady Florence
,
Washington