Yoga Meditation Hiking Retreat Peaceful Mountain, North Cascade Mountains, WA
July 13
|
$425 – $550
Event Navigation
Retreat Theme
This year's retreat theme will be "Fear Not". Many of us have grown accustomed to being afraid, so much so that we do not understand how worried we are, or how fear limits us, stunts our spiritual growth. We will discuss ways to manage fear, not by ignoring it completely, but by facing it head on and blasting through it. We will also compare the New Age teachings on fear versus what Jesus and the bible say: "Do not be afraid". We will discuss how to recognize and deal with evil courageously, not alone, but with the company of our Divine Friend. Ultimately, fear dissipates as we grow more aligned with the true power of the Universe, what some call God.

What else will we do
Besides yoga and meditation, we will do some hiking in beautiful mountains and forests. We will discuss how to align with the Divine to clear the fear, and we will do a delightful sound bath to help us connect on all levels.

Sound Bath
An easy way to calm the mind and access higher energy vibrations. We invite the group to lie down and relax while Liz and Roy play a variety of instruments and sounds to help us move into blissful rest before bedtime, ahhhhhhhhhh ….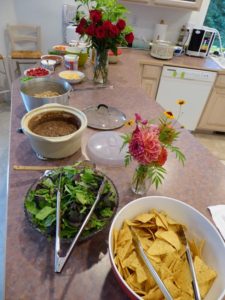 Teachers, cooks and hike leaders
Liz and Roy pride ourselves in creating loving, organic, healthy and tasty meals. Included is Thursday night dinner, then three meals each day, Friday and Saturday, and Sunday bountiful brunch.
 Accommodations
Peaceful Mountain is a beautiful accommodation near Mt. Baker with everything we need: nice yoga space, meditation & gathering space, exercise room, sauna, full kitchen from which we will serve three delicious meals daily, and access to nature and hiking trails in the area. Rod is a wonderful owner and host, who may play his didgeridoo for us if we are lucky!
Cost
For 3 Nights: $495 shared room with shared bath. $550 shared room with private bath inside room, $425 tent, includes 3 nights shared accommodations, organic, healthy meals, all yoga, meditation classes, sound healing, guided hike, sauna.
Schedule:
July 13-16, 2023
Who attends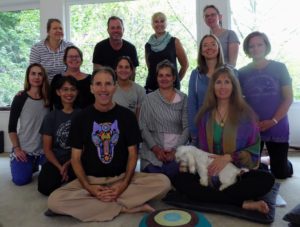 You! We usually have about 15-20 people, a chance to make new friends and connect, but also quiet time to read, relax, and rejuvenate. You are invited to do as many or as little as the classes and activities as fits you and your needs.
Your Hosts:
Roy Holman: I am a 500 hour Certified Yoga teacher, in the Viniyoga tradition. I teach a safe, gentle, body-friendly, grounded, breath-connected, meditative, flowing traditional hatha yoga – a meditation in motion really. I like to move slow, give time to breathe deeply and savor the poses. I also teach breath-work (pranayama) and meditation, and also try to incorporate the many aspects of emotional healing and balancing I have learned. The meditation is a mindfulness style, with focus on breath awareness, heart opening, body senses, emotional clearing, and connection on all levels (body, breath, emotions, Earth, Spirit).
Liz Gross: "I believe all healing involves alignment of the soul with the body." Liz is a gifted sound and vibration healer, and teaches with Roy on retreats. Liz teaches yoga, meditation, Oneness and often does some of the cooking on our retreats. "When you're consciously in touch with the life energy within yourself, you have awareness & communication with the flow of energy that connects you to spirit. I feel very passionate about Vibrational Medicine and love working with others in this way & helping others to connect with their purpose and passion in life. Vibrational Energy Medicine brings the physical, emotional, mental, & spiritual bodies back into balance, which opens the way for rebuilding the healing systems of the body."
Tags:
Holman Heath Connections
,
Liz Gross
,
Mount Rainier Retreat
,
Roy Holman
,
Yoga Retreat