Seattle Yoga Meetup: Creative Vinyasa Flow with Adrienne Kimberley
Dec 9, 2016 @ 6:00 pm

-

8:00 pm

|

$15
Event Navigation
Join us for the December 2016 Seattle Yoga Meetup hosted by Seattle Yoga News!
This month we take you to Bohemian Studios in Greenwood for a creative vinyasa yoga class taught by Adrienne Kimberley. This is an all-levels yoga class that will get you flowing on your mat and will leave you energized for the rest of the weekend.Following class there will be an opportunity to mingle and hang out with other awesome people from the local yoga community.
Athleta is this month's official meetup partner and they will be giving away 4 gift cards for a total value of $150. All you have to do to be entered is to buy your ticket in advance.
About Adrienne Kimberley (in her own words):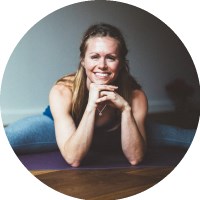 My journey began with an undeniable call to teach yoga. I left a business gig in Chicago and told myself that if it didn't work out, I could always go back to the desk if I needed. I come from humble roots, so I felt I had nothing to lose——that was five years ago.
I moved to Seattle without knowing this city or knowing a soul (except my boyfriend at the time). The stars aligned in my favor, as they do when you follow your heart, and I began teaching at a handful of brand new studios that all began to flourish, defining a new wave of athletic, musical yoga in Seattle.
My yoga style evolved and blossomed, and it still shifts and changes daily.
I call what I teach "creative and intelligent vinyasa flow." It is a unique and powerful class that combines rhythmic, dancey breath-led movement with structured anatomical opening for a peak posture. My fluid yet pragmatic style is challenging, inspiring and enrapturing. I am fiercely dedicated to intuitive and flowing movement, and I delight in the challenge to choreograph beautiful, intelligent transitions.
Ultimately, though, I am an entrepreneur at heart. I love to challenge conformity and envision new possibilities. I co-design the curriculum for teacher trainings and workshops throughout Seattle, scout and lead local and international retreats, and I spearhead events and collaborations. I co-founded Down Dog App, created the method for, and co-own, Barre Bohemian, and designed Seattle's only mobile yoga teacher training program: The Craft of Teaching Yoga.
Yoga is the underscore of everything in my life, and because of that, I cannot help but share it with anyone who crosses my path.
Make sure to get your ticket now and RSVP on the Facebook event page.
---
The Seattle Yoga Meetup takes you to different yoga studios throughout the greater Seattle area. Each experience is unique. Grow your practice and your community at every meetup! Make sure to sign up for the Seattle Yoga Meetup email list to get notified of future meetups.
Tags:
Adrienne Kimberley
,
Bohemian Studios
,
Seattle Yoga Meetup
,
Seattle Yoga News Event
,
Yoga Greenwood
,
Yoga Phinney Ridge