Meditation Hike with Liz Gross and Roy Holman
Event Navigation
"A journey is best measured in friends, not in miles." –
Details: 5 miles round trip, 1,500 feet gain.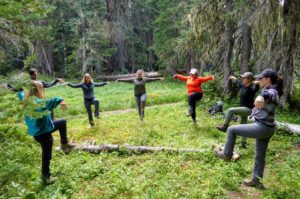 Mountain Meadow Yoga: Join us for a bug-free hiking getaway at this beautiful meadow location on Mount Rainier's Palisades Lakes, just 2 hours from Seattle. This is a beautiful time of year, and the bugs will still be asleep! We will invite some silence and walking meditations, do some gentle yoga in a gorgeous meadow, eat lunch in the forest, and get some nice fresh air.
Forest Bathing: We will play with the idea of "Forest Bathing", This healing art in Japan is called Shinrin-yoku Forest Therapy, the medicine of simply being in the forest. Shinrin-yoku is a term that means "taking in the forest atmosphere" or "forest bathing." It was developed in Japan during the 1980s and has become a cornerstone of preventive health care and healing in Japanese medicine.
Trail: This trail is in great shape, but does have some serious ups and downs, so you must be in decent shape.
What to Bring: Small backpack, a lunch, layers of clothes (can get cool this time of year), towel or pad to sit on.
How to Get there: We will discuss car pooling.
Itinerary:
8am: Meet in Seattle, or …. meet 9am in Enumclaw. It is over an hour from there to the parking lot and trailhead on the Sunrise side of Rainier.
10am: Begin hike, yoga and lunch in meadow around noon or 1, then head back
3pm: Arrive back at cars, head home
Includes:
Guided hike with guided meditations and some gentle forest yoga and forest bathing (the forest bathing is donated free from the generous forest!). Come escape your indoor, electronic, and wired world and get some fresh air, move your body, and meet some good people.
Date:
Sept 17th, 2022
Price:
$45 per person
About the instructors: Liz Gross and Roy Holman

Liz Gross: "I believe all healing involves alignment of the soul with the body." Liz is a gifted sound and vibration healer, and teaches with Roy on retreats. Liz teaches yoga, meditation, Oneness and often does some of the cooking on our retreats. "When you're consciously in touch with the life energy within yourself, you have awareness & communication with the flow of energy that connects you to spirit. I feel very passionate about Vibrational Medicine and love working with others in this way & helping others to connect with their purpose and passion in life. Vibrational Energy Medicine brings the physical, emotional, mental, & spiritual bodies back into balance, which opens the way for rebuilding the healing systems of the body."

Roy Holman: I am a 500 hour Certified Yoga teacher, in the Viniyoga tradition. I teach a safe, gentle, body-friendly, grounded, breath-connected, meditative, flowing traditional hatha yoga – a meditation in motion really. I like to move slow, give time to breathe deeply and savor the poses. I also teach breath-work (pranayama) and meditation, and also try to incorporate the many aspects of emotional healing and balancing I have learned. The meditation is a mindfulness style, with focus on breath awareness, heart opening, body senses, emotional clearing, and connection on all levels (body, breath, emotions, Earth, Spirit).
Tags:
Holman Health Connections
,
Liz Gross and Roy Holman
,
Yoga Meditation Hiking Retreat
,
Yoga Retreat Near Seattle